The Latchkey Child Services Story
Three Decades of Caring for Kids
When Latchkey Child Services Inc. was founded more than thirty years ago, it was a different time. In 1992, there were more working parents putting in more hours than ever before. There was a new spike in single motherhood and – sadly – few options for before and after school care.
For decades, kids of all ages simply made their way home from school and let themselves in with a latchkey – hence the name, "Latchkey Kids." The 1980s and 90s saw a rise in latchkey kids, and in the problems resulting from unsupervised kids. Studies showed that children are most at risk during the hours after school – when juvenile crime triples and children are most likely to be involved in risky behavior.
We knew there was a better way, so in 1992 Latchkey stepped in to fill the void, providing before and after school programs that empower kids to continue building knowledge, skills and friendships outside of school hours – in spaces that are as safe as they are fun.
Today, we are Oklahoma's longest running before and after school program
What is The Program Like?
Details vary by school, but we always aim to support the physical, cognitive, social and emotional development of children in ways that are fun, stimulating, and educational. Feel free to drop by any time to check out the program.
On any given day, you might find our kids:
Immersed in art & STEM projects
Playing outdoors
Playing team sports
Building friendships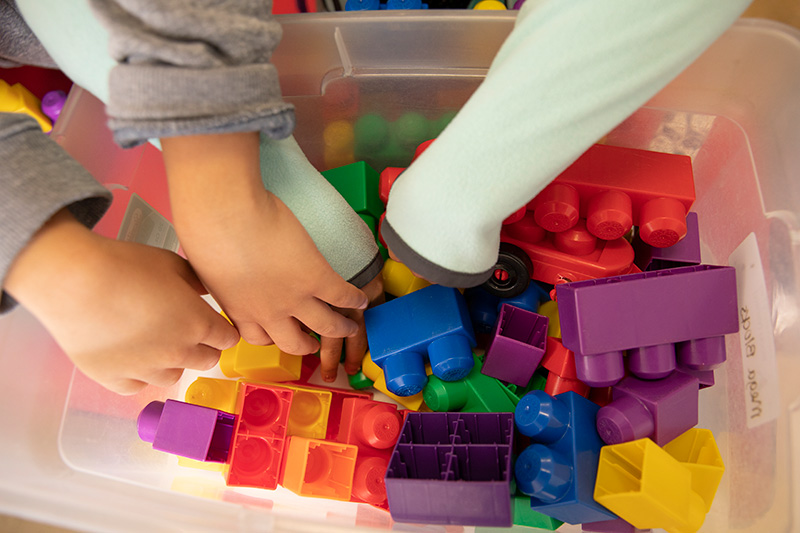 Much More Than Daycare
Latchkey offers more than childcare. Our programs are structured to enhance a child's physical, cognitive, social and emotional development as well as their school experience.
Typical program schedules include:
Reading Adventure Day (R.A.D.)
Arts & Crafts
Math Activities
Music & Movement
Science & Nature Exploration
Outdoor Physical Activities
STEM Activities
Story Time & Reading
Time for Homework
Time for Friends and Relaxation
Activities such as puzzles, games, dramatic play, building, puppets and more!
Monthly celebrations and award ceremonies
No Transportation Worries
Since we operate in your child's school, you never need to worry about Latchkey transporting your child.
Better Academics
79% of students who participate in after school programs are academically above average students.
New Friendships
At Latchkey, kids make friends and build relationships with others they wouldn't otherwise meet.
Healthy Pastimes
No TV, video games, internet or junk food.
Typical Schedule
Before School (AM):
6:00 AM until classes begin
After School (PM):
End of school until 6:00 PM
Find Latchkey
near you
Is Latchkey in your child's school? Finding out is easy.
Ready
to enroll?
You can complete the registration process, enroll in easy autopay and secure your child's spot online right now!
Our Staff
We take staff selection very seriously, only hiring people we would trust to take care of our own children. We do this through thorough background checks, personal and business references, criminal history investigations and sex offender registry searches. Each site is assigned at least one teacher with a national professional credential, and all Latchkey teachers receive training upon being hired, including annual program and policy training, adult and child CPR and first aid.
Where is Latchkey located?
What are the hours?
Our corporate office hours are 8 AM to 5 PM, Monday through Friday. Site programs typically begin between 6 and 6:30 AM and end at 6:00 PM. Find a complete list of hours at each school
here
.
Is there a fee for the service Latchkey provides?
Yes, weekly tuition depends on the program you choose. Payment of the annual enrollment fee and the first week's tuition must accompany the enrollment forms to secure a space for your child.
When and where are payments made?
We collect payments weekly through Tuition Express. Contact us to make other payment arrangements.
What is Tuition Express?
Latchkey offers an automatic payment deduction option through the secure service, Tuition Express.
Who can participate in the Latchkey programs?
Students must be enrolled in a school that hosts a Latchkey program to participate.
Does Latchkey transport children?
No, Latchkey programs operate inside of your child's school – eliminating the transportation worries for parents.
Does Latchkey provide care on days that school is not in session (Parent/Teacher Conference days, Holidays, Spring and Winter breaks, etc.)?
Yes, Latchkey provides care on most out-of-school days including spring and winter breaks. Programs are consolidated on these days. You will be provided with a list of dates and locations when you enroll.
What do kids do while in Latchkey?
Children are engaged in learning activities to stimulate them and help develop new skills, find hidden talents and set goals. They also have time to relax and build friendships.
What are qualifications for the Latchkey staff?
Latchkey has a variety of positions that range from entry level to master teacher/site director positions. The qualifications for these positions vary from those that require little experience in the field (these staff work under the supervision of another staff person with higher qualifications) to ones that require a degree in early childhood development or education.
How many teachers are there for each program?
The number of teachers depends on the number of students enrolled. Generally, the ratio is 1 teacher for every 10 to 15 students, and we never exceed 18 students per teacher.
How do I enroll my child in Latchkey?
Does Latchkey accept state daycare assistance?
Yes, all Latchkey sites contract with OKDHS and accept state daycare assistance.
Is there any type of program to reduce the tuition?
Scholarships are dependent on the availability of funds and are awarded based on financial need. Scholarship awards typically cover up to 50% of tuition. For more information contact our main office at 405-236-2069.
How long has Latchkey been providing its service?
Latchkey was founded in 1992 and has been providing before and after school care in schools ever since.
Are Latchkey programs licensed by the state?
Yes, all Latchkey programs are licensed by OKDHS and adhere to all city and state health and safety regulations. Latchkey participates in the state of Oklahoma's accreditation program "Reaching for the Stars", and we strive for the highest Star Rating for each location.
Do you provide breakfast, lunch or snacks?
Breakfast and lunch are typically provided by the school. Latchkey provides a snack for children in the after-school program.
Do the children go outside?
Yes, Latchkey feels that children need fresh air and exercise each day when weather permits.
Do I have to pay for the full week if my child does not come every day?
Yes, full tuition is due each week of the school year, except for Winter and Spring breaks.
Do I have to use my Access Oklahoma card each day, or can I swipe once a week?
Latchkey requires clients that receive state daycare assistance to swipe their Access Oklahoma card daily.
Do you have a multiple child discount for tuition?
No, there is not a discount for families with more than one child, but your enrollment fee is less for additional children.
Do I get a receipt when I pay tuition?
Monthly payment statements are not provided. However, you can register at tuitionexpress.com to get statements. Contact our office for assistance.
When can I enroll for the next school year?
Latchkey begins pre-enrollment for the next school year at the beginning of May and continues throughout the summer months. If the individual school or school districts have special dates for pre-enrollment, Latchkey will conduct a pre-enrollment at that time as well.